Frightmore Academy is a haunted house which includes 20+ different scenes, both indoor and out. It is not recommended for the faint of heart or those suffering from heart and/or breathing conditions. Visitors will be exposed to strobe lights, fog, and loud noises.
Full Back Story:
At the beginning of 2019, Mr. and Mrs. Frightmore bought this facility out of foreclosure in hopes of transforming it into a haven for troubled children, a cause that was dear to their hearts. Instead of your average educational facility, the Frightmores felt that they had a special talent for correcting bad behavior in children, and therefore decided to open an alternative school for juvenile delinquents, promising to improve academic performance and produce well-mannered individuals. Mr. and Mrs. Frightmore decided to offer the first year of schooling free of charge; however, they required that all students complete a mandatory 2-month on siteevaluation with no outside contact. After the applications were approved, the first-ever class at Frightmore Academy was formed.
Following the 2-month period, parents arrived to pickup their children for the weekend break; however, tragedy struck when the Frightmores reported that all of the children had mysteriously gone missing. Frightmore Academy was immediately ordered to cease all operations, pending a formal police investigation. Eight months after the tragedy, the Frightmoresopened their doors to anyone wishing to visit their facility, in an attempt to clear their good name.
*Fast Forward to 2021*
As a result of the deadly virus in 2020, the Frightmores suffered a devastating blow with attendance deemed unacceptable. Determined to ensure that this did not happen again, the Frightmores locked themselves away in the family library where they searched effortlessly for something that would guarantee their success for years to come.
The Frightmores have reportedly stumbled upon an ancient concoction, that when inhaled, cripples its victim and casts them into a horridslumber, one haunted by nightmares. Nearby residents have reported sounds of witchcraft and bloodcurdling screams coming from the property at night.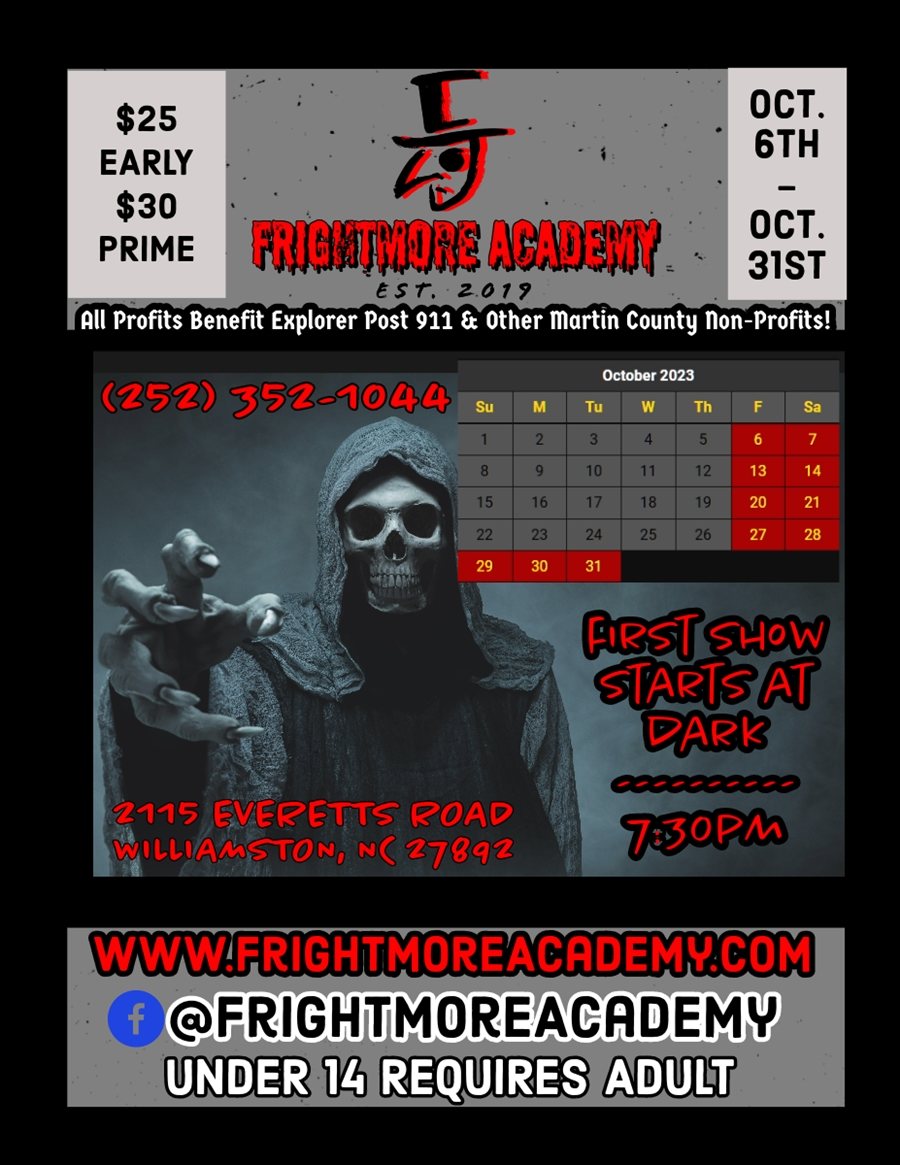 CALENDAR
October 2023
Su
M
Tu
W
Th
F
Sa
1
2
3
4
5
6
7
8
9
10
11
12
13
14
15
16
17
18
19
20
21
22
23
24
25
26
27
28
29
30
31
- dates open
FIRST SHOW STARTS AT DARK
October 6, 7 (7:00-10:00)
October 13, 14 (7:00-10:00)
October 20, 21 (7:00-11:00)
October 27, 28 (7:00-11:00)
October 29 (7:00-10:00)
October 30 (7:00-9:30)
October 31 (7:00-11:00)
LOCATION
2115 Everetts Road
Williamston, NC 27892
252-352-1044